Peyton
20
Peyton doesn't have a lot of friends, and has NO family. For most of her life she has lived alone, and working to save up for college. She had thick and very long red hair, her eyes are a golden color that catches others attention.
Little does Peyton know, but for some odd reason her blood is so sweet and rare, that vampires would kill to get to it. Most would love to bleed her dry, but there are some higher ranked that would like to use her for bait, payment, or something else entirely.
(More as the story progresses)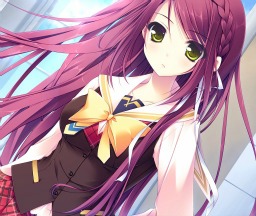 annnnnddddd you're fabulous.




Posts

: 2612


Join date

: 2010-09-22


Age

: 25


Location

: Portland, Oregon



Alex
Vampire
He know's how to seduce and control girls, he knows how to get what he wants as will do anything in his power to get it.
Zero Shadowcrest
age-15
species-Shadow,Edel Raid
He is skilled at both magic and swords, is light, dark,and fire, He can also use water lightining, ground,wind and ice but doesn't use them that often. Can transform into various forms.He has the spirit of fire in light in him in the form of a phoenix and the spirit of ice/water and dark in him in the form of a wolf.
Phoenix
Shadow form
Flare
A baby dragon that is hyper and energitic. He can has every element power.
Ember
age-5
Race-Angel,Vampier
crush-
bio-She is hyper, adverntures and loves candy. She can put you in a trance, fly a little, and tell the future sometimes and likes to make bets with her sister. She has a pair of pink angle wings. Both sides are after her so that they can destroy the other. If they catch her they plan on brainwashing her and sending her on dangerious missions.
pic;(but with knee long hair)
Angel
vampire
15-years old
Angel
Vampire
(Sorry it took awhile, been pretty busy, do you want to post first?)
annnnnddddd you're fabulous.




Posts

: 2612


Join date

: 2010-09-22


Age

: 25


Location

: Portland, Oregon



(ok)

Zero was walking down the street at night as he glanced around. He yawned a bit as he looked up at the sky watching the moon. He streatched his arms a bit as he was deep in thought now. He put his hands in his jacket as he glanced around curiously.

Alex was slowly stalking his next victum, a very younge girl. He smiled slightly as he stalked down the road silently as he slowly crept towerds her making sure she didn't know he was there.

Ember was at the park as she hummed softly. She was a five year old right now as she giggled and played having fun in the park alone as she ran over to the swing. She swung back in forth in her school uniform right now.


Similar topics
---
Permissions in this forum:
You
cannot
reply to topics in this forum